New Delhi: 
Sheila Dikshit, three-time chief minister of Delhi and chief of the state Congress, will contest the national election from Delhi. Ms Diskhit, 81, will contest from the parliamentary constituency of North East Delhi while her predecessor in the state unit, Ajay Maken, is the candidate from the New Delhi parliamentary constituency. Days ago, there was speculation that the veteran politician might contest the election from East Delhi. Instead, the Congress is fielding Arvinder Singh Lovely from there.
Prime Minister Narendra Modi will travel to Maharashtra and Rajasthan to campaign for his party, the BJP, in the ongoing Lok Sabha elections, while his party president Amit Shah will address three rallies in West Bengal today. 
Congress President Rahul Gandhi is campaigning in four districts of Uttar Pradesh, including his constituency Amethi, while his sister, Priyanka Gandhi Vadra will visit Rae Bareli along with their mother and UPA chairperson Sonia Gandhi today.
In Delhi, the candidates fielded by the Aam Aadmi Party will file their nominations for the May 12 elections. They are expected to file their papers in the presence of senior AAP leaders.
In neighbouring Punjab, Chief Minister Amarinder Singh will accompany Congress's LS Candidate from Jallandhar Santokh Singh Chaudhary for filing of his nomination papers.
Here are the Live Updates on Lok Sabha Elections-related news:
Pragya Thakur will win by huge margin, Digvijaya Singh does not stand a chance: Shivraj Singh Chouhan
Former Madhya Pradesh chief minister and senior BJP leader Shivraj Singh Chouhan spoke to NDTV's Sreenivasan Jain on controversial leader Pragya Thakur, who has been fielded by the BJP in Bhopal.
"She will win by a huge margin. Pragya Thakur will be a representative of all the 26 lakh people in Bhopal. She does not discriminate. What is the fuss about her contesting from Bhopal," he said.
Mr Chouhan said that the senior Congress leader Digvijaya Singh, who is contesting against Pragya Thakur, does not stand a chance in the constituency. "Digvijaya Singh would be defeated anyway. Even if we field a party worker in Bhopal, he will win the seat for us, he said.
Shivraj Singh Chouhan also supported BJP's decision to field Pragya Thakur, claiming that she was framed in the 2008 Malegaon blast case. "What has happened with Pragya Thakur  is a case in point… How a woman has been tortured… How there have been attempts to defame Hindutva," he said.
Congress releases list of candidates from Delhi
Congress has released the list of its candidates who will contest the Lok Sabha elections from Delhi. The list includes six candidates. Former Delhi Chief Minister Sheila Dikshit, who is also heads the party's Delhi unit, is among the candidates.
Heading to Bikaner in Rajasthan. Looking forward to addressing election meetings in Bikaner and Alwar Loksabha constituencies today. @BJP4Rajasthan

– Chowkidar Rajnath Singh (@rajnathsingh) April 22, 2019
Mamata Banerjee can see that she will lose: Amit Shah
Mamata Banerjee can see that she will lose. 
Democracy has taken a hit with this kind of violence in Bengal.
The refugees who have come from Bangladesh, be it Hindus, Buddhists, Sikhs, Jains, or Christians, BJP has clearly signaled in its 'sankalp patra' that we will give them citizenship. We will take forward a zero-tolerance approach towards terrorism.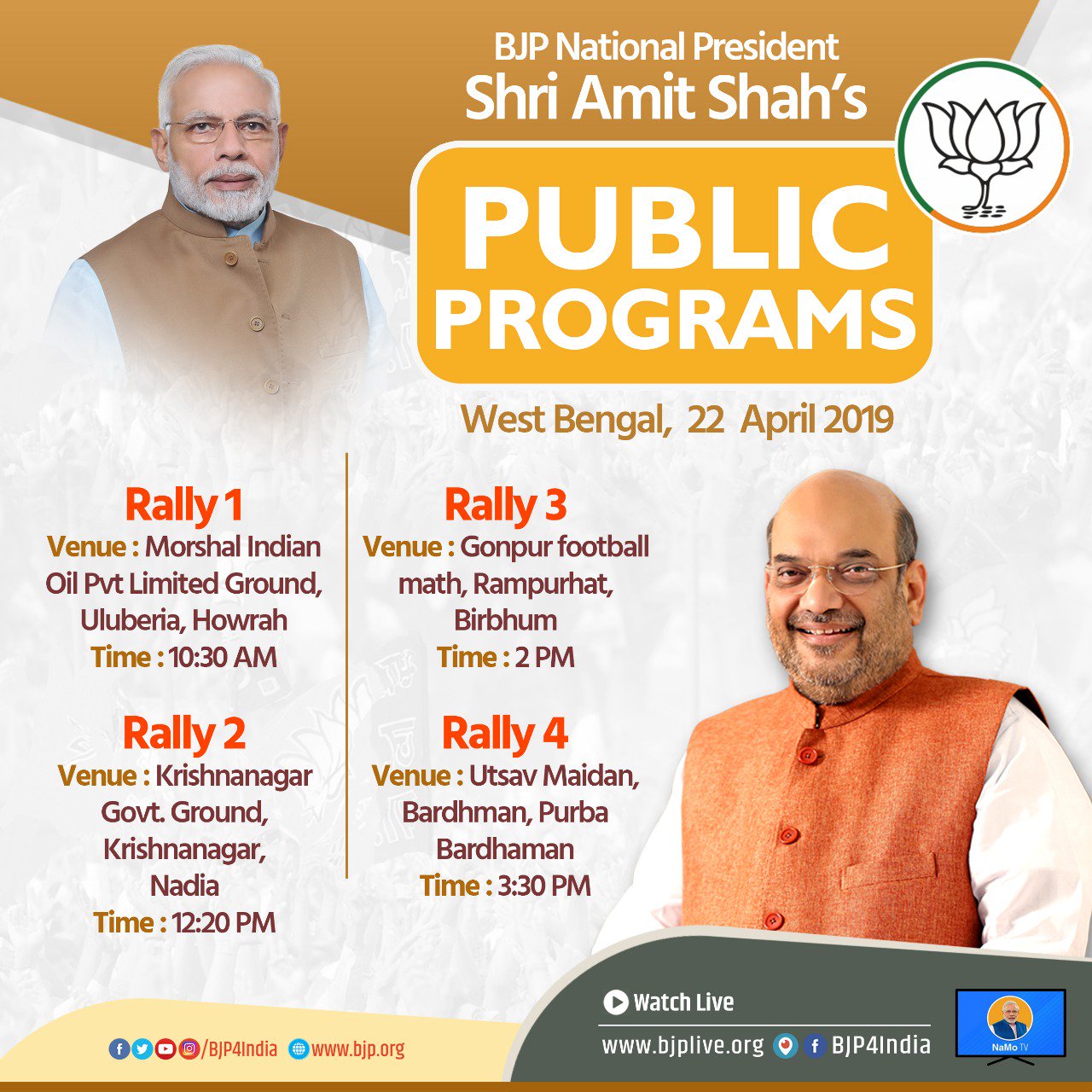 Prime Minister Narendra Modi will campaign for the BJP in Maharashtra and Rajasthan today.
पीएम श्री नरेन्द्र मोदी 22 अप्रैल 2019 को महराष्ट्र और राजस्थान में विशाल जनसभाओं को संबोधित करेंगे। लाइव देखें

∙ https://t.co/vpP0MInUi4
∙ https://t.co/KrGm5idRUX
∙ https://t.co/EyN23g7lWz
∙ NaMoTV

लाइव सुनने के लिए 9345014501 डायल करें। pic.twitter.com/YVXtx3fnrT

– BJP (@BJP4India) April 21, 2019
For all the updates on yesterday's election-related news, click here 
SOURCE LINK